Television news is one of our core passions. Mediapro's news reporter Maria Veronese has recently worked on a report about Remploy for the BBC's Sunday Politics Show. Thank you to everyone who tweeted with case study suggestions.
Still on TV and Mediapro has been asked to help with an exciting new local television channel bid. It's heartening to work on a project that has so many talented and experienced professionals behind it. Watch this space! Local TV is set to be the next dramatic chapter in the UK's media evolution.
Charity Update
One of Mediapro's chosen charitable causes is the rebuilding of Christchurch in New Zealand following the devastating February 2011 earthquake. The city's damaged cathedral has recently been the focus of protest by Cantabrians (locals) wanting it saved. The protest was led in part by the city's famous Wizard of Christchurch. Despite local residents best efforts the cathedral's future remains bleak. However, if the decision to demolish it is over turned, the Mediapro team will do its best tohelp raise funds towards the cathedral's reconstruction.
Since the quake which claimed 182 lives, the region of Canterbury has had more than 10 thousand aftershocks. Some are measuring more than 5 on the richter scale.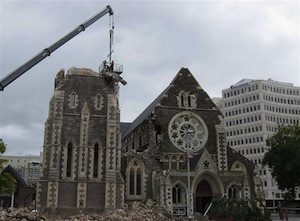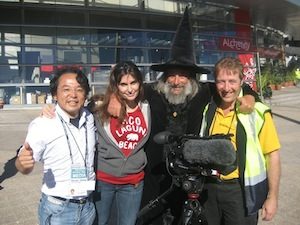 The damaged cathedral in the centre of Christchurch, NZ. Mediapro's Maria Veronese with the Wizard of Christchurch and other news crew members in front of the city's Earthquake HQ soon after the 12 Feburary tremor which killed 182 people. Maria covered the story for local BBC TV and radio in the UK.
Norwich 100 mile charity bike ride
Justin Cohu, Mediapro's manager, joined friends to take part in the British Heart Foundation's Norwich 100 mile cycle race. It's the first time Justin's cycled in a charity event and having comfortably made it around, it's not likely to be his last…though some of us suspected he was walking a little like John Wayne the following day…!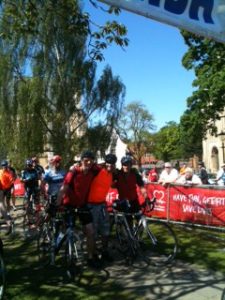 Still smiling: David Redding, Ian Garbett and Justin Cohu at the Norwich 100 finish line.
Happy Jubilee!
On a lighter note – heavy rain didn't dampen celebrations throughout the UK in honour of the Queen's illustrious 60 year reign. A good excuse to wrap up warm and enjoy a feast of coronation chicken, cucumber sandwiches and delicious cupcakes! Now though it's back to work….