Mediapro is delighted to be working with the UK's largest independent Co-operative Society. With an annual turnover of more than £350 million and 4,700 employees – the East of England Co-operative – has 200 trading outlets in 70 towns and villages across 2,000 square miles of East Anglia.
Mediapro's Manager Justin Cohu says the Co-op's philosophy of being honest and friendly whilst offering the best possible service is also at the heart of Mediapro's ethos. "The Co-op genuinely wants to improve and enhance the communities it trades in. We feel very privileged to be working with such a fair-minded and highly motivated company."
Where's the Pimms?

Mediapro trainer Kevin Saddington is always busy. Between presenting his radio shows and leading our training sessions, Kevin's been shooting lots of impressive live TV for network news and sport at Wimbledon. Kevin's pictured below with a new Sony HD camera worth £50,000….no wonder he's smiling – hi-tech gadgets, tennis, strawberries and even a bit of sunshine – Kevin Heaven!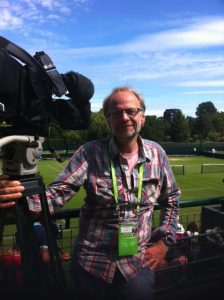 More top quality sport
There's no use denying it. Olympic fever is here. For some time now our trainers have been working on various Olympic related stories. Below is a shot recently taken by one of our crew as they crafted a story about Olympic Legacy. Part of the report, which is being aired this month, covers new venues that are being built like Luton's £26m Olympic inspired Aquatic Centre pictured below.